All of our programs incorporate therapeutic riding and horsemanship and are designed to meet the needs of children and adults with physical disabilities, learning difficulties, communication disorders, emotional problems, social disorders, stress related issues, and adjustment difficulties, as well as those who wish to learn about horses and riding in a therapeutic environment.
Please read the following for important information regarding lessons.
ACTIVE Winslow Participants

On-site lessons are slowly being scheduled again. You will be notified by email/phone once we are able to add you to the schedule.

PROSPECTIVE Participants

Our Adult Day Program is accepting new participants, year-round. This program is currently on a virtual platform and takes place Monday-Friday 10am-2:30pm. Please click HERE for more information on this program.
If you are a prospective participant looking to schedule private riding lessons, please call (845) 986-6686 or fill out the form at the bottom of this page and we will contact you to be added to our waiting list.
"As a volunteer, I have the privilege of not only working alongside great staff and fellow volunteers, but also the amazing animals that make the magic happen. It's beautiful to witness people of all ages benefit from this program and light up with love for the horses that heal them."
Prospective Participant Checklist
Fill out the two forms below
Call (845) 986-6686 to inform us of your form submission, discuss lesson options, and set up your initial evaluation
If you qualify for a scholarship, please fill out the form below:
Active Participant Checklist
Please complete the following forms ANNUALLY:
Inquiring prospective participants, please fill out the form below and we will contact you, or call (845) 986-6686.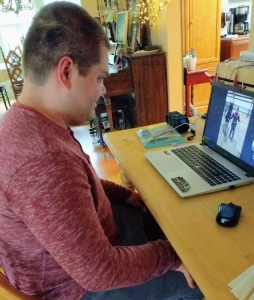 "Scott really liked the virtual horse leading lesson! Looking forward to the next one!"
– Rebecca S.