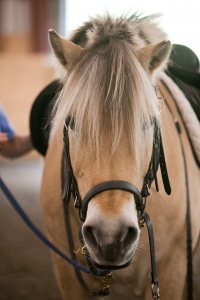 If you are interested in donating your horse, please consider the following information prior to contacting us.
Ideal age range: 6-16 years old
Ideal height: 13 – 17 hands
Must be sound
Must be tolerant of their environment and their riders
Must be able to handle having up to 4 people around them during a 30-minute lesson including rider
Must be able to tolerate the occasional shout or unusual movement of their rider
Our horses have a demanding work schedule year-round in classes involving extensive walking, some trotting and occasionally cantering. They have plenty of time to play and be a herd animal in our spacious paddocks. Our herd constantly receives love and attention from students, volunteers and staff. They get routine veterinary care including worming, shots, and dental work.
We know that the best horse is not perfect and a good candidate may not have every attribute. Evaluation by Winslow staff is required prior to advancing with a possible donation. If you feel your horse would be a good match for our program contact our Head Riding Instructor/Program Coordinator, Stacy Lenz at stacy@winslow.org.