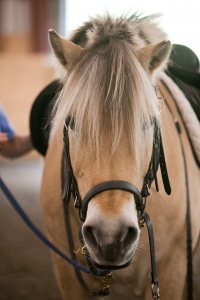 If you are interested in donating your horse, please consider the following information prior to contacting us.
The ideal age range of a therapy horse for our program would be 6-16 years old. The ideal height is 13 – 17 hands. Donated horses must be sound.
Personality plays an important role in a therapy horse. They must learn to be tolerant of their environment and their riders. They must learn to be able to handle having people on all sides of them while they are being ridden, and to tolerate the occasional shout or unusual movement of their rider.
Our horses work hard and play hard year-round in classes involving extensive walking, some trotting and occasionally cantering. They are constantly receiving love and attention from students, volunteers and staff. Each horse lives outside in the pasture with their friends and come in to the barn for lessons. They get routine veterinary care including worming, shots, dental work and are also seen consistently by the farrier.
We know that the best horse is not perfect and a good candidate may not have every attribute. Evaluation by Winslow staff is required prior to advancing with possible donation. If you feel your horse would be a good match for our program contact our Executive Director, Sue, at sue@winslow.org.