ADMINISTRATIVE
Sue Ferro, Executive Director, EMAIL: sue@winslow.org
Priscilla Orr, Financial Consultant, Winslow TRC and CLC Foundation, EMAIL: priscilla@winslow.org
Janet Victor, Administrative Assistant, EMAIL: janet@winslow.org
Vicki Wolf, Administrative Assistant, EMAIL: info@winslow.org
Stacy Lenz,  Head Riding Instructor/Adaptive Riding Instructor, PATH Intl. Advanced CTRI & Mentor, EMAIL: stacy@winslow.org
Carolyn Beisiegel, Marketing/Events/Fundraising Assistant/Adaptive Riding Instructor, PATH Intl. CTRI, CARSS II, OTA/S, EMAIL: carolyn@winslow.org
Carlee Curcio, Volunteer Coordinator/Riding Instructor, EMAIL: volunteer@winslow.org
INSTRUCTORS
Carolyn Beisiegel, Adaptive Riding Instructor
PATH Intl. Certified Therapeutic Riding Instructor
Certified Adaptive Recreation and Sports Specialist II
OTA/S
Renee Bond, Riding Instructor
Carlee Curcio, Riding Instructor
Joyce DeGhetto, Adaptive Riding Instructor
PATH Intl. Certified Therapeutic Riding Instructor
Malinda Ferko, Riding Instructor
Alisa Fox, Adaptive Riding Instructor
PATH Intl. Certified Therapeutic Riding Instructor
Judy Lalley, Riding Instructor
Stacy Lenz, Head Riding Instructor/Adaptive Riding Instructor
PATH Intl. Advanced Certified Therapeutic Riding Instructor
PATH Intl. Mentor
Linda Mills, Adaptive Riding Instructor
PATH Intl. Certified Therapeutic Riding Instructor
Cathe Struble, Adaptive Riding Instructor
PATH Intl. Advanced Certified Therapeutic Riding Instructor
PATH Intl. Evaluator
Lisa Toaldo, Riding Instructor
EQUINE CARE & GROUNDS TEAM
Justin Endrikat
Lisa Mauriello
Shane Petry
Eloy Torreblanca
ADULT DAY PROGRAM SPECIALISTS
Rebecca Bonomo
Linda Mills
BOARD OF DIRECTORS
Roger Cooper, Chairman
Linda Sampson, Vice Chairman
George Moskowitz, CPA, Treasurer
Matthew Persanis, Esq., Secretary
Leo Kaytes, Director
Stan Martin, Director
Jack Minoff, Esq., Director
Levan Natalishvili, Esq., Director
John Signorelli, Director
Hon. Dana Winslow, Director
FOUNDERS
Virginia H. Martin, 1931- 2008
Ms. Martin had been the President and Head Riding Instructor of Borderland Farm since 1962. She was a past President of the Eastern States Dressage &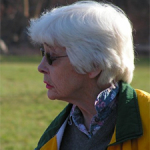 Combined Training Association and an honorary lifetime member of the Windy Hollow Hunt.
Ms. Martin was a graduate of Skidmore College, who started a film production company in the 1950s. She put that background to use with the production of the films, "Saddle Pals" and "Challenged Equestrians". Both were innovative documentaries about therapeutic riding; a field she helped pioneer. She was instrumental in creating Winslow Therapeutic Riding Center in the early seventies. Ms. Martin was a former Program Inspector of the North American Riding for the Handicapped Association, receiving the James Brady Professional Achievement Award for her lifetime of accomplishments in the field. This includes organizing the first regional equestrian competition for the disabled and demonstrations at the National Horse Show, coaching riders at international competitions, giving clinics and presentations on therapeutic riding throughout the world.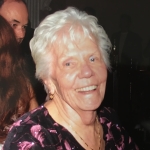 Virginia G. Mazza
Masters in Education, Syracuse University. Special Education Teacher for 25 years. Jini was a Founding member of Winslow, Board Member, and previous Executive Director. She has been instrumental in the development and growth of Winslow's programming, including seminars, trainings, and fundraisers. Under Jini's direction, Winslow has become an internationally known leader in the field of Therapeutic Riding and Equine Assisted Therapy.
She is a Special Olympic Equestrian Judge, the past Chair of *NARHA Region 2, a member of CAN (Competition Association of *NARHA) and Lead Visitor for the *NARHA on-site Riding Program Accreditation Process. Jini is retired since early 2004, but continues to serve Winslow as a consultant and grant writer. (*NARHA is now – PATH Intl.)