Winslow offers something for everyone! As an inclusive facility, we provide both adaptive and traditional horseback riding lessons which incorporate mounted and unmounted horsemanship skills. Each lesson, we work towards independence in riding, grooming, tacking, and additional unmounted skills which complement riding skills and develop a more rounded equestrian. No experience is necessary, everyone learns at their own pace! Our knowledgeable and experience instructors are equipped to handle any and all levels of experience, and any type of rider. Focusing on the core aspects of a balanced seat, our lesson participants learn what it takes to enter any riding discipline once they have found their passion.
With an indoor arena for winter riding and outdoor arena when the warmer months come around, there's a place for everyone to learn how to ride. Our property also boasts a number of amazing forest trails for that "brain break" from working hard in lessons.
See below for more information on the variety of lessons we offer!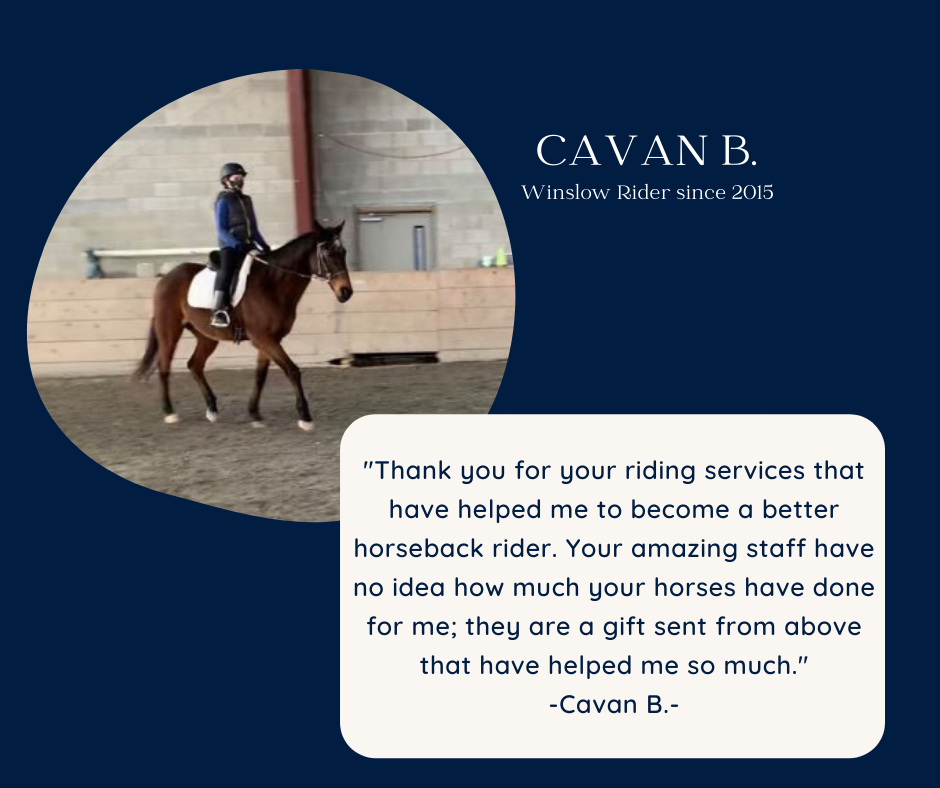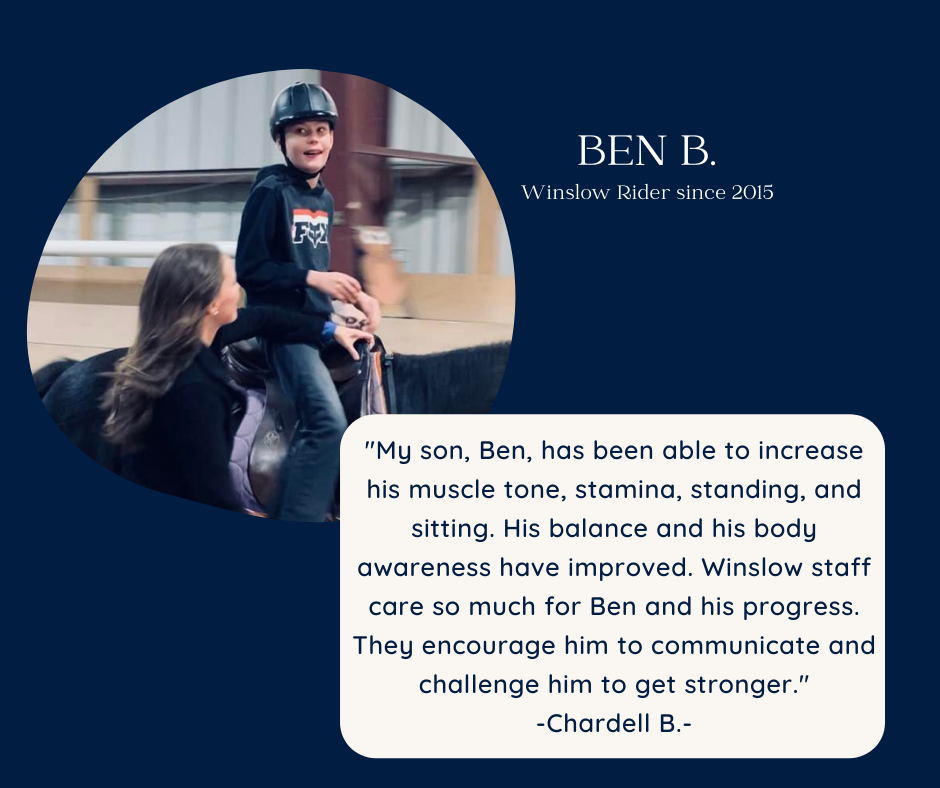 Adaptive Lessons
Certified by the Professional Association of Therapeutic Horsemanship, Winslow's instructors have extended training in working with adults and children with various disabilities, tailoring each lesson to the needs of the lesson participant. During adaptive riding sessions, we work with each lesson participant to teach the skills necessary to work towards becoming independent equestrians. Our instructors are knowledgeable in mounted and unmounted skills, and can adapt each lesson to the needs of the lesson participant when they arrive. No matter what we teach in each lesson, participants will continue to grow as equestrians by gaining valuable knowledgeable.
Winslow's PATH Intl. Certified Therapeutic Riding Instructors are also educated in developing lesson plans that can help the lesson participant reach life goals. Working towards your driver's license!? Our instructors can incorporate sequencing and safety awareness into lessons! Having trouble socializing at school!? We have plenty of people to talk to here at Winslow…let's get chatting. Low in confidence? Horses know exactly how to instill that into their partners! Horsemanship skills promote independence, help to develop social skills and confidence, teach empathy and respect, provide sensory input and encourage balance, and can increase muscle tone and strength. There are so many more benefits to riding! Adaptive lessons are a great way to build life skills while becoming an experienced equestrian.
Traditional Lessons
Traditional lesson participants learn the fundamentals of mounted and unmounted horsemanship from the ground up! We focus on the partnership between equine and rider, and what it takes to be the best team possible in the ring. Learning how to communicate non-verbally with your equine as well as how to care for, groom, and tack your equine are an important complement to riding. When riding, we teach how to communicate riding skills to the equine, but on the ground, we teach you how to communicate with your horse and get to know them as your partner, friend, and teammate. This rounded approach to horsemanship helps to develop strong partnerships and the most respectful equestrians.
Traditional riding lessons also help to instill confidence in individuals and provide them with a unique accomplishment to make them proud. In addition, there are many benefits to riding such as development of increased balance and muscle tone, confidence and respect for others, communication and social skills, and more!
New Participant Information
Pricing
Pricing is for both adaptive and traditional lessons.
Evaluation Fee $50.00
Private Lessons
½-hour $50.00 // 1-hour $70.00
Semi-Private Lessons (2-3 participants)
½-hour $40.00 // 1-hour $55.00
Group Lessons (4-5 participants)
½-hour Not Available // 1-hour $45.00
Looking for Something Different!? Winslow offers a number of different programs for adults and children alike! Click below to find out more about our unique programs!