At the beginning of 2020, former Miss Teen New Jersey and Miss New Jersey USA Ambassador 2020, Brooke Niemic, found that Winslow was in need of some uplifting in our garden. She took time to manage a community service project to build new garden beds for Winslow. With the help of her family, she was able to freshen up our greenhouse! We are so excited to show our Adult Day Program participants who care for this garden throughout the year. This greenhouse is part of their daily activities during their time at the barn.
Our Adult Day Program participants tend to the vegetable gardens that they began years ago. Each day they care for the plants, harvest the plants, and put them out for sale to all those who visit Winslow. With the donations from their vegetable sales, they are able to partake in community outings and other activities. This group of wonderful adults, also tends to our chicken coop and goats! They collect eggs daily and also put those out for sale by the dozen. The donations for the eggs also go straight to their program. What fantastic ways to build independence and instill wholesome values. To support this program and others like it at Winslow, visit www.winslow.org and DONATE!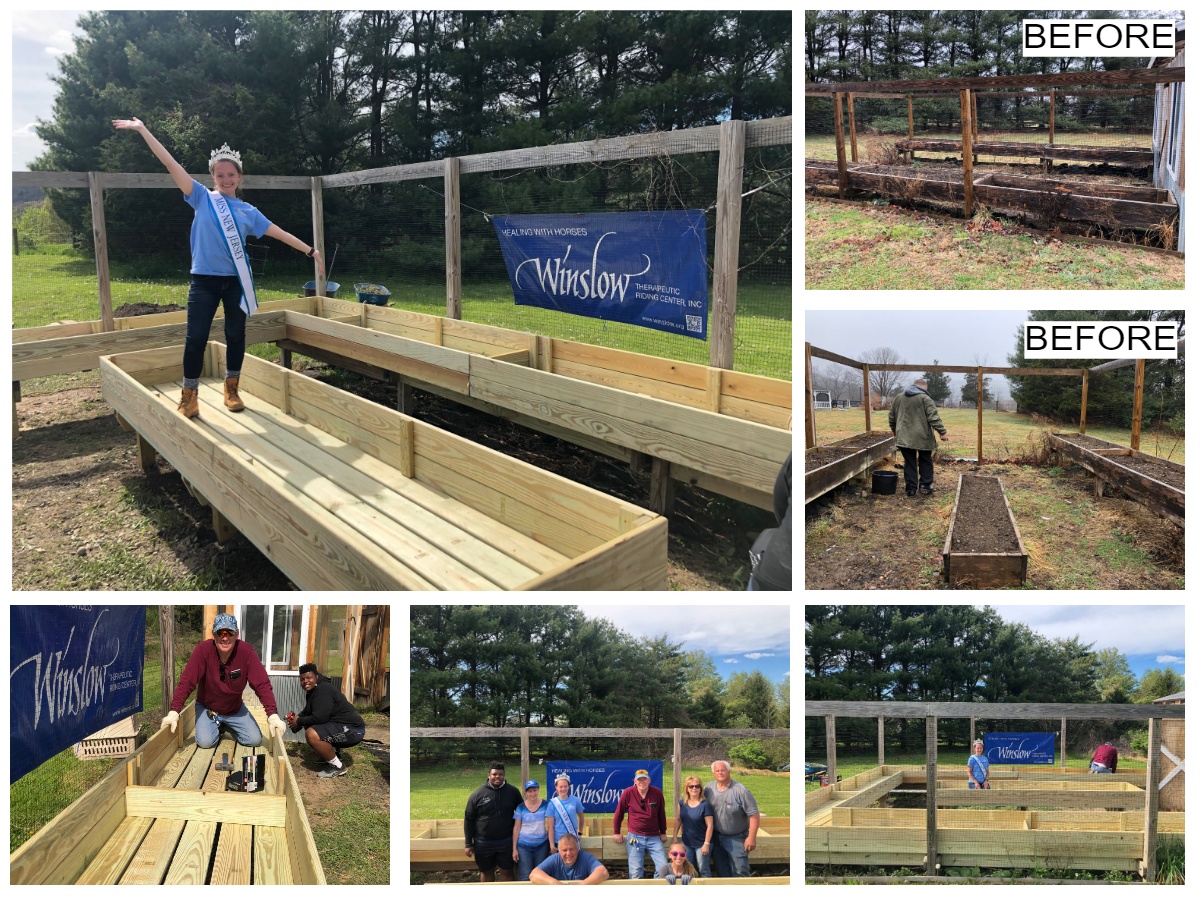 Below, please see a letter from Brooke Niemic regarding her project and how Winslow has impacted her life.
"My name is Brooke Niemiec and I am your Miss New Jersey USA Ambassador 2020. A few months ago, I had a vision to rebuild the flower beds at Winslow Therapeutic Riding Center (where I donate my time) so that they could start their year with a new and improved garden for planting. My first priority was to acquire funding for the material, and with the generous donation from NCN Construction, all the material was purchased. My brother and I worked with the owner of NCN Construction constructing all the garden beds and getting them ready for build day. With the help of my entire family we ventured to Winslow for the day to start the rebuild. Amazing enough we accomplished this in just one day. I cannot thank my family for taking the time out of their day to transform the flower beds from old to new in a single day. I want to especially thank the owner of NCN construction for donating all the material we used for the building of the flower beds. I also want to thank Winslow for allowing me to watch my vision come true. The staff were so supportive and truly brightened my day when they saw the finished product.
The reason why I chose Winslow is because it gives individuals with special needs, the opportunity to be themselves and learn how to ride horses. I love volunteering at Winslow as I get to work with individuals with special needs and horses, which fills my heart with love. Winslow is an amazing place to learn how to ride horses, even see some goats and chickens. Volunteering at Winslow has changed my life."
To support our programs and continuing education, click HERE to learn more about volunteering, or to make a monetary donation of any amount, visit www.winslow.org!
Thank you Brooke for your hard work and dedication!