In March 2020, the COVID-19 pandemic swept the world and forced all of us in to some sort of quarantine. Winslow had to suspend programming and volunteer opportunities for the safety of our participants, volunteers, and staff. Two of our three major fundraisers of the year, Sunset at Winslow and our "Healing with Horses" Golf Outing were cancelled. Our 30th annual Duck Derby was postponed and transformed into a raffle with raffle ticket sales continuing through the summer and the winners drawn in a virtual raffle on September 12th. What did this mean for the success of Winslow through this uncertain times? Just like the rest of the world, the odds were not in our favor, we knew that much.
Our part-time staff were laid off; full-time staff were limited on the property and were put onto rotating schedules to care for the animals; our fundraising efforts came to a standstill; and our programming suspended for months, though it felt like an eternity. Our barn seemed like a ghost town; the laughter and smiles that filled our facility just days earlier, were replaced with eerie silence and a daunting uncertainty. To stay "alive", Winslow joined the rest of the world in the virtual realm, setting up 'Virtual Winslow' and offering a variety of virtual experiences. From meeting our animals, learning about horse anatomy, to story time, Winslow provided an extensive menu of virtual opportunities to continue to support our community.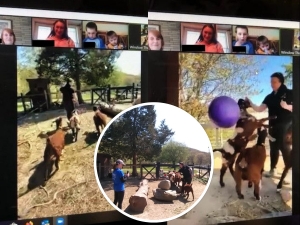 We offered 'Winslow Wednesdays' and 'Saturday Strides', which were tailored to learning all about mounted and unmounted horsemanship skills in order to complement our participant's learning they received on-site prior to COVID-19. Our 'We are Winslow' program offered everyone, everywhere, a chance to experience Winslow through virtual tours of the property, meet the animals sessions, learning all about Winslow and the services we provide, and much more! Private virtual horsemanship lessons were offered to our participants during their time away from our facility in an effort to continue their learning, and staff made weekly outreach calls to all of our lesson participants on our roster. We also started a reading program on Saturdays called 'Story Time Saturdays', where all who wished to zoom in, could enjoy 20-minutes of a book reading while hanging out with our herds at Winslow. For our volunteers, we were offered private zoom sessions as a group to see each other again and walk around with our Volunteer Coordinator to say "hi" to all the horses!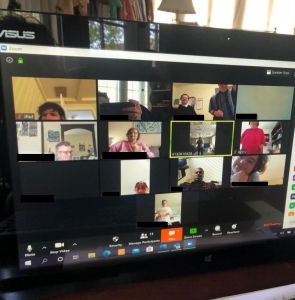 Our Adult Day program transferred to a complete virtual platform, Monday through Friday, 10am-2:30pm. All of our participants learned basic technology skills, as they began to use their iPads, smart phones, and computers, to join us on Zoom sessions. As they grew more familiar with the process, we'd often find some of them log in to the session and tell us right away, "I did it all by myself today!" They were so proud of themselves and we were too as they became more and more resilient and adapted to this new lifestyle that we were all so unfamiliar with. Participants enjoyed a variety of activities, learning about horsemanship, animal care, healthy eating and cooking, meditation and calming techniques, and much more! They were all so excited to continue to see the faces of Winslow, including the volunteers who zoomed in to sessions to say "hi"! We are so grateful to all our participants and volunteers for their patience and support as we developed a new way to provide them their experience at Winslow. To see all of the amazing things we did online, click HERE!
So, where are we at now? Winslow resumed operations in June, opening in a slow and phased approach to ensure that our safety measures were effective as we can make them. However, we made the difficult decision to cancel our Summer Adventures summer camp for safety reasons despite many calls for enrollment. We decided to bring volunteers and participants back in waves, slowly building up to more and more people on property as we felt it was safe to do so. The joy on each and everyone of their faces when they arrived back for the first time, could not be described with words. Hearing their stories of how much they missed their time at Winslow, was heartbreaking, and we were so glad that we were able to once again provide them a safe haven and place to go to escape the world around them.
Our virtual programs aided us in continuing to raise funds, however, without the success of our annual fundraisers, Winslow has suffered a significant financial deficit. We are so grateful though to have survived through the period of suspension and to still be standing as the world started to reopen. If you or someone you know is interested in supporting our programs, any amount donated is so very much appreciated during this time to assist Winslow in continuing to offer these valuable programs to our deserving clients. Visit www.winslow.org to make a donation today!