For staff, participants, and volunteers alike, the temporary closure of Winslow was difficult for all. As we slowly began to reopen our facility, our volunteers and participants were so excited to have the opportunity to return and begin helping out around the barn and seeing all of our animals again. Staff worked diligently to restore operations to resemble what once was the hustling and bustling, Winslow. Our participants were excited to be able to return and prepare their horse for the lessons. Volunteers took the time to tell us how Winslow's temporary closure affected them.
Liana H. tells her story: "When I am at Winslow, I feel so free and that I am at my second home. I am always so happy to be around everyone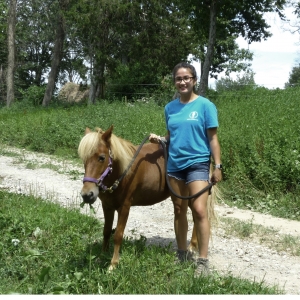 including the horses, staff, other volunteers, and the clients. I have never been in such a welcoming environment before such as Winslow. Being a volunteer at Winslow allows me to have purpose of what I love doing while helping others. I feel proud to be apart of something so special. During the COVID-19 quarantine I felt lost and miserable like everyone else. I felt trapped…Winslow is a place where I could be open-minded and forget everything that was going on in my life. Not being able to go to Winslow, was honestly the worst part of COVID. When I was informed that I was able to come back, I screamed and was so happy and danced around the house. Since being able to return back to Winslow, it made me have the summer I wanted before I left for college…I wanted to spend it outside, with the horses, and the place I loved being at. I was no longer cooped up and I was so incredibly happy to get back to work at Winslow."
Rose D. tells her story: "I look forward to my days at Winslow; I find it therapeutic to volunteer at Winslow. No matter what is going on in day-to-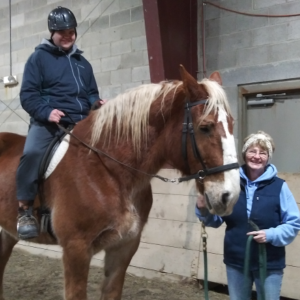 day life, I am there with the people and the horses and I feel so relaxed. During the COVID-19 quarantine, I truly missed being there. It was difficult to not have that place where I could have the time to just be there with the horses; that quiet time while grooming horses takes away so much stress. When I found out that I was able to return, I felt elated to know I was going to be able to see all the people and the amazing herd. My first day back was absolutely incredible and I felt nothing by joy. Since returning, I have been less stressful as being at Winslow gave me time away from the news and fear that come from this pandemic. I believe it has given me more strength to deal with day-to-day life."
"When I returned to Winslow, I felt like all of my pieces were back in place…I feel like me again!" – Volunteer
"Winslow is my happy place…I may come in feeling down, but always leave happy." – Volunteer
"Winslow is therapy for my mental health! It's 'me' time." – Volunteer
"After returning to Winslow, I started smiling a whole lot more! Everyone knows how important volunteering at Winslow is for me. I'm so thankful to be there. I cherish each moment I'm there, because you never know what is going to happen next." – Kerri S.
Kaleena A. is one of our newest volunteers to join Winslow. She started off taking lessons at Winslow (as many volunteers have done before) and said, "I loved them so much I decided to start volunteering as well".
Upon reopening our doors, volunteers were able to connect with the animals again, grooming and caring for them, and watching them play with each other. They helped staff around the barn, ensuring that the barn was sanitized each day and all of the equipment we used was sanitized after each lessons. Staff hosted a continuing education clinic about learning how to communicate with horses in order to encourage our volunteers to gain more knowledge about themselves and their work with the animals at Winslow. This clinic provided insight into how we perceive ourselves, how others perceive us, and how our equine partners respond to our behaviors.
The volunteers who participated in this clinic were so excited to have the opportunity to work with the horses in a free and relaxed environment where they were given the chance to be themselves and be at peace. To learn more about this clinic, click HERE. To support our programs and continuing education, click HERE to learn more about volunteering, or to make a monetary donation of any amount, visit www.winslow.org!